Some help and guidance for our Mortgage & Savings Members
We recognise that this is an uncertain time. Our members are at the heart of everything we do, and we want you to be reassured that we will do everything we can to help you during this period. We are all feeling the impact of the Coronavirus outbreak, which for many of our members and their families is a time of much worry and uncertainty.
We are paying close attention to recent Government and NHS guidance as it is updated. Our focus is on the personal safety of both our staff and our members. For any member who is concerned about their ability to meet their mortgage repayments at this time, we encourage you speak to us as early as possible to see what options are available.
Helping you keep your money safe, and protecting you from scams and fraudulent activity related to Coronavirus is really important to us. No matter what happens, we'll never call, text or email you asking you to move your money to another account or for your Savings Account details.
Don't forget you can always access your money through our Online Services – it's easy, safe and secure.
We'll keep doing everything we can to help look after our members at this time. Please bear with us and thank you for your patience.
All four of our branches; Harpenden, Radlett, Tring and Leighton Buzzard currently have the below opening hours:
Monday 9am - 3pm
Tuesday 9am - 3pm
Wednesday 9am - 3pm
Thursday 9am - 3pm
Friday 9am - 3pm
Saturday 9am - 12pm
Our Head Office is open and operating from 9am - 5pm from Monday to Friday.
We would like to provide all of our members an update on our decision to permanently close the Wendover and Buckingham branches with immediate effect. You can read our official statement in full from our Chief Executive, Sarah Howe.
We apologise to any of our members who have had difficulty in getting through and contacting us, we are aware that this can be frustrating.  Please bear with us during this time, we are working to ensure we can deal with all our members' enquiries in a timely and efficient manner during the current circumstances.
If you have any questions or problems that you would like to discuss with us, please do contact a member of our team on one of the following numbers:
Mortgages: 01582 463133 Savings: 01582 765411
Last updated: 11:00 Monday 20th September 2021
For our Mortgage members
For our Intermediaries and Business Partners
Some helpful advice to protect yourself from fraud
Criminals use exceptional circumstances, like the current COVID-19 situation, as a chance to pose as employees of a genuine organisation, such as building society / bank staff and police officers and target you for fraud scams.
Criminals pretend to be from your building society, bank or the police and claim they are dealing with Coronavirus-related issues that require you to respond by paying money or providing personal information that will allow them to access your account.
They often use pressure tactics to stop you thinking about want they want you to do for them. To be clear, a building society will never:
Ask you to disclose your PIN number or other passwords for your account
Encourage you to move funds from your own account into a different "safe" account
Encourage you to order and pay for UK cash via the phone or internet
Charge up-front fees for repayment holidays
Make home visits to collect mortgage arrears on your doorstep
Demand an immediate payment of mortgage arrears over the phone
Demand payment of mortgage arrears via email providing you with a link through which to make payments.
Individuals who approach you saying that they are Building Society employees and who pressurise you in the ways outlined above, are criminals.
You must:
Stop - Take a moment to think.
Challenge – Don't be afraid to ask questions or say "No" and end the conversation.
Protect – Contact the Building Society or the Bank from which you have made a payment immediately - if you think that you have been the victim of fraud.
Take Five - protection from common fraud
There is also the Take Five national awareness campaign led by UK Finance and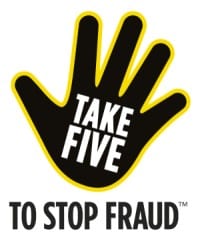 backed by Her Majesty's Government delivered with, and through, a range of partners in the UK payments industry. They offer lots of hints and tips and they provide straight-forward and impartial advice on financial fraud prevention.
The campaign urges you to stop and consider whether a situation is genuine – to stop and think if what you're being told really makes sense.
Visit our Protection from Common Fraud page for their advice and to access the helpful material they provide.
Action to take
If you think you have been the victim of fraud you should report this to Action Fraud on 0300 123 2040 or visit actionfraud.police.uk