Helping you stay safe from common fraud…
We're a mutual building society and we're proud to deliver a first-class customer service consistently. Our members are at the heart of what we do and we're committed to helping people towards a safe and secure financial future. One important part of this is helping you stay safe against fraud.
Take Five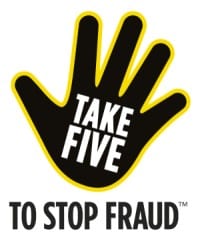 Take Five is a national awareness campaign led by UK Finance and backed by His Majesty's Government delivered with, and through, a range of partners in the UK payments industry. They offer lots of hints and tips and they provide straight-forward and impartial advice on financial fraud prevention. Visit the Take Five website for their advice and to access the helpful material they provide. Here you can find more information and advice on how to protect yourself.
November Update 2023: More than one in four parents fall for purchase scams ahead of black Friday. 
UK Finance's Take Five to Stop Fraud campaign warns parents to be wary of scams when shopping online for gifts for loved ones this Black Friday.
Over one in four parents surveyed (27 per cent) said they have been tricked into a purchase scam.
However, only a quarter of the parents in this survey (26 per cent) said they always research a seller before placing an order and just half (53 per cent) check website links to make sure they are genuine.
The UK Finance campaign Take Five to Stop Fraud is warning parents to be wary of fake deals being advertised online this Black Friday, as new research shows more than one in four (27 per cent) have been tricked by purchase scams.
A purchase scam is where a person makes a payment for goods or services that never turn up. Criminals often advertise technology products like phones or computers at low prices to attract buyers, persuading them to make bank transfers, then disappearing once the payment is made. They generally do this either through fake websites or fake ads on social media as well as auction sites.
It's not always easy to tell when someone is lying. In fact, nearly three-quarters of parents of children aged between four and ten (74 per cent) said they told their children harmless fibs, in order to make life easier. But the sophistication of criminal purchase scams is always increasing. And with only a quarter (26 per cent) of parents in this survey always researching sellers before they buy, Take Five to Stop Fraud is urging consumers to take more care this Black Friday.
Parents can protect themselves by checking sellers more carefully when buying online. At the moment parents' top three protective measures when buying online are: being wary of offers that seem "too good to be true" (62 per cent), reading customer reviews of sellers online (60 per cent) and checking website links to make sure they are genuine (53 per cent).
UK Finance's recent Half-Year Fraud Report found that purchase scams are the most common kind of authorised fraud, accounting for two-thirds of all cases. The volume of purchase scam cases has grown by 43 per cent from 53,907 in the first half of 2022 to 76,946 in the first half of 2023. The amount stolen from victims in this period also rose by 31 per cent to £40.9 million. The report also found that 77 per cent of all Authorised Push Payment scams began on online platforms.
Consumers are urged to follow the advice of the Take Five to Stop Fraud campaign to:
Stop
Taking a moment to stop and think before parting with your money or information could keep you safe.
Challenge
Could it be fake? It's ok to reject, refuse, or ignore any requests. Only criminals will try to rush or panic you.
Protect 
Contact your bank immediately if you think you've fallen for a scam and report it to Action Fraud
The campaign urges you to stop and consider whether a situation is genuine – to stop and think if what you're being told really makes sense.
Below is some further important information to help keep you safe online from common frauds
Are you Scam Savvy?
Criminals are turning to more sophisticated ways to take your money, whether through online offers, emails or telephone calls. Can you outsmart them? Put your ability to spot a scam to the test with Take Five's spot a scam Quiz and see if you are scam savvy.
Things to look out for in emails…
If it sounds too good to be true, it probably is. Be cautious of an email subject line or content that looks false or causes suspicion.
Look out for poor spelling and grammar in emails. It can be a clear sign of phishing.
Be suspicious of requests for lots of personal information. Ask yourself why do they need to know that? Or what is its relevance?
Is there a deadline or countdown? Fraudsters will often use pressure to try and get you to act quickly and provide what they want.
Check the sender's email address; hover your cursor over the senders email address as it's listed in your inbox. If the website displayed isn't in the name of the alleged email sender, it could be a phishing email.
If you receive an email from an unknown sender, don't action it without verifying the sender.
Delete any suspect emails or text messages. Don't forward it on to anyone as this can add some credibility and encourage the recipient to follow any instructions.
Check the person who called you, or who sent you an email from an organisation, is genuine. Call them back on a verified number from the organisation's website or telephone directory.
If you believe you have received a fake email, phone call or text message, contact the genuine party to notify them.
Be careful if you have to allow anyone to have remote access to your PC or device. You must be certain the request is coming from a trusted source.
A quick jargon buster…
Phishing
Phishing is where a fraudster will send an email which appears to be from a legitimate company, attempting to obtain personal details from you. These phishing emails often contain a link directing you to a website which will ask you to re-verify your details.
But beware, this will usually be a fake website but it will look real and could also trigger the unknowing download of a virus to your PC or device. If the fraudster gets hold of your password and personal details they can use this information to commit further crimes.
Vishing
This is very similar to phishing but takes place over the phone. Instead of getting you to go to a website, the fraudster may request personal details from you directly or ask you to transfer money to an account.
Smishing
Just like vishing, fraudsters contact you by phone but instead of a phone call it is done using text messages where you are usually asked to follow a link or call a telephone number. This is called smishing.
Twishing
Again, this is another form of phishing but this scam takes places on Twitter and often involves getting users to hand over their usernames or passwords.
View further advice on how to protect yourself online here
Please note: This information does not constitute legal or financial advice given by Harpenden Building Society. No reliance should be placed on this guide and you must make your own decisions, we recommend that you seek independent advice if you have any questions or queries.
Sign up to our emails and magazines
If you'd like to find out about our latest news, products and services, sign up to our emails and magazines. We won't bombard you with emails and we'll always treat your personal details with care.
Your privacy is important to us and we'll ensure that your details are accurate and kept up-to-date. View our Privacy Page.