Helping you stay safe from common fraud…
For specific advice regarding coronavirus (Covid-19) and protecting yourself against fraud - view the dedicated section our FAQs page.
We're a mutual building society and we're proud to deliver a first-class customer service consistently. Our members are at heart of what we do and we're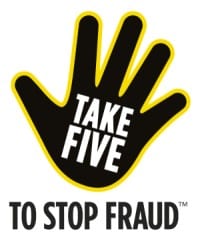 committed to helping people towards a safe and secure financial future. One important part of this is helping you stay safe against fraud.
December 2020 - Advice ahead of Christmas shopping and delivery procedures
With Christmas approaching, criminals are again stepping up their efforts to take advantage of consumers searching for bargains.
Social media platforms, online market places and auction websites are increasingly used by criminals to carry out these purchase scams, where a customer pays in advantage for goods or services that are never received.
Criminals are also using the cover of Christmas by sending fake parcel delivery emails enticing you to click the link and provide your contact and bank details. You then receive a call from the criminals, pretending to be from your bank's fraud team, trying to persuade you to move your money to a 'safe account' or give away your card reader codes. Many variations exist, from bogus claims of unpaid TV licence or vehicle tax to fake HMRC Tax rebates.
Consumers are urged to follow the advice of the Take Five to Stop Fraud campaign to:
Stop: Taking a moment to stop and think before parting with your money or information could keep you safe.
Challenge: Could it be fake? It's ok to reject, refuse, or ignore any requests. Only criminals will try to rush or panic you.
Protect: Contact your bank immediately if you think you've fallen for a scam and report it to Action Fraud.
You can find more information and advice on how to protect yourself here.
Take Five is a national awareness campaign led by UK Finance and backed by Her Majesty's Government delivered with, and through, a range of partners in the UK payments industry. They offer lots of hints and tips and they provide straight-forward and impartial advice on financial fraud prevention.
The campaign urges you to stop and consider whether a situation is genuine – to stop and think if what you're being told really makes sense.
Visit the Take Five website for their advice and to access the helpful material they provide.
Here's some quick and helpful advice:
To help avoid becoming a victim of fraud, here's three key points to remember:
Only give out your personal or financial details to services and people you trust and are expecting to be contacted by. A genuine bank, building society or other organisation will never contact you without notice to ask for your PIN or password, or to ask you to move money to another account.
Never automatically click on a link or download a file from an unexpected email or text. This is a common method used by fraudsters to install 'snooping' software on people's computers, or to trick people into revealing their personal or financial details.
Always be suspicious of uninvited approaches. If someone telephones you out of the blue and asks about your financial details, politely hang up and check with the organisation directly yourself, using a known email or phone number. If the call was genuine, they'll be pleased you contacted them.
Some important rules to follow to keep you safe online from common frauds:
Things to look out for in emails…
If it sounds too good to be true, it probably is. Be cautious of an email subject line or content that looks false or causes suspicion.
Look out for poor spelling and grammar in emails. It can be a clear sign of phishing.
Be suspicious of requests for lots of personal information. Ask yourself why do they need to know that? Or what is its relevance?
Is there a deadline or countdown? Fraudsters will often use pressure to try and get you to act quickly and provide what they want.
Check the sender's email address; hover your cursor over the senders email address as it's listed in your inbox. If the website displayed isn't in the name of the alleged email sender, it could be a phishing email.
If you receive an email from an unknown sender, don't action it without verifying the sender.
Delete any suspect emails or text messages. Don't forward it on to anyone as this can add some credibility and encourage the recipient to follow any instructions.
Check the person who called you, or who sent you an email from an organisation, is genuine. Call them back on a verified number from the organisation's website or telephone directory.
If you believe you have received a fake email, phone call or text message, contact the genuine party to notify them.
Be careful if you have to allow anyone to have remote access to your PC or device. You must be certain the request is coming from a trusted source.
A quick jargon buster…
Phishing
Phishing is where a fraudster will send an email which appears to be from a legitimate company, attempting to obtain personal details from you. These phishing emails often contain a link directing you to a website which will ask you to re-verify your details.
But beware, this will usually be a fake website but it will look real and could also trigger the unknowing download of a virus to your PC or device. If the fraudster gets hold of your password and personal details they can use this information to commit further crimes.
Vishing
This is very similar to phishing but takes place over the phone. Instead of getting you to go to a website, the fraudster may request personal details from you directly or ask you to transfer money to an account.
Smishing
Just like vishing, fraudsters contact you by phone but instead of a phone call it is done using text messages where you are usually asked to follow a link or call a telephone number. This is called smishing.
Twishing
Again, this is another form of phishing but this scam takes places on Twitter and often involves getting users to hand over their usernames or passwords.
Action to take
If you think you have been the victim of fraud you should report this to Action Fraud on 0300 123 2040 or visit actionfraud.police.uk
Please note: This information does not constitute legal or financial advice given by Harpenden Building Society. No reliance should be placed on this guide and you must make your own decisions, we recommend that you seek independent advice if you have any questions or queries.